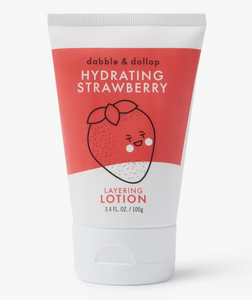 Dabble & Dollop
All-Natural Layering Lotions - Strawberry
Regular price
Sale price
$16.00
---
Dabble & Dollop's All-Naturak Hydrating Strawberry Layering Lotion is the remedy for children's dry skin. With top-tier ingredients and a fragrance reminiscent of freshly picked strawberries, it ensures parental satisfaction and kids' engagement. Our jojoba and brassica-infused formula combats dryness, balancing natural oils and offering a lightweight, non-greasy finish. Bid adieu to red, itchy skin and welcome soft, hydrated comfort. Plus, our Hydrating lotions are designed to be layered - so kids can use one, two, or three separate scents and blend them to create their own custom skin hydration routine. Tubes are travel-friendly at 3.4 oz. per unit!
Details
Our all-natural Strawberry body lotion is a comforting blend reminiscent of desserts and sweet treats. This beloved scent is crafted from authentic natural vanillin, offering a richness superior to synthetic alternatives.
Composed of ten sustainably sourced, EWG-1-rated ingredients, our lotion includes spa-grade jojoba, known for its anti-inflammatory benefits, and brassica oils rich in essential fatty acids to hydrate the skin. Pair it with our Vanilla or Coconut lotions for a delightful layering experience, giving skin a refreshing and hydrating touch.
• Made in United States
• Ingredients: Water (Aqua), Jojoba Esters, Cetearyl Alcohol, Brassica Alcohol, Brassicyl Vanilate Esylate, Glycerin, Hydrolyzed Jojoba Esters, Caprohydroxamic Acid, Glyceryl Caprate, 100% Natural Fragrance.
Additional Ingredient Transparency (All Natural Fragrance Ingredients): Natural Triethyl Citrate (EWG-1), Natural Vanillin (EWG-1), Natural Maltol (EWG-1), Natural Ho Wood (Cinnamomum Camphora) Oil (EWG-1), Natural Heliotropine (EWG-1).
• Product Language: English
• Weight: 4 oz (113.4 g)
• Dimensions: 1.8 x 1.8 x 5 in (4.6 x 4.6 x 12.7 cm)